High quality full spectrum extract

Intense taste

Bioenergetically tested and optimized according to BESA

Cultivation without the use of chemical pesticides, herbicides or fertilizers

3 to 10 working days for shipping within the EU

Application: shake well before use, 3-5 drops in a glass of water, 3 times a day
Cayenne Extrakt
Cayenne is a wonderful medicinal herb and is ideal as a dietary supplement. It can help improve the flow properties of your blood in order to prevent cardiovascular diseases. Would you also like to do something good for your stomach or lower your blood sugar level? Or maybe just stimulate your metabolism to lose excess pounds? Cayenne pepper is a true all-rounder and can help you with this. Cayenne extract is made from fresh and dried fully ripe cayenne fruits from our own cultivation. When gently pressed, dried and processed, our cayenne extract becomes a harmonious, holistic natural product. We have developed and optimized our recipe based on practical experience over the years in collaboration with alternative practitioners and therapists. Cayenne extract is very suitable for daily and long-term use or as a cure.
Cayenne extract product properties
Full spectrum extract from gently extracted fresh juice enriched with dried cayenne fruits
30 ml per vial, content is sufficient for 3 x 5 drops daily for approx. 2.5 months
Spiciness: medium,  scale 6 out of 10, approx. 50,000 Scoville, intense taste
Natural food supplement
Ingredients: 50% alcohol, 50% fresh cayenne pepper juice, dried cayenne fruits
Bioenergetically tested and optimized according to BESA
Cultivation without the use of chemical pesticides, herbicides or fertilizers
Cayenne selection "Capsicum annuum" from biodynamic propagation
Cultivation in Bosnia and Herzegovina by our own team
Processing and filling in Austria according to the highest quality standards
vegan
Raw food quality (max. 40 degrees Celsius, 104°F in processing and drying)
Consumption recommendation:
Take 3 to 5 drops in the morning and in the evening with a glass of water or juice. 20 drops correspond to 1 ml of cayenne extract.
Indications:
Do not get in eyes
Keep out of the reach of children
Do not exceed the daily dose
Dietary supplements are not a substitute for a balanced diet
Do not use undiluted
alcoholic tincture 50% vol. Alc., Not under 18 years!
Paeon Natura products are not medicinal products. If you have any questions about the treatment of illnesses, please consult a doctor.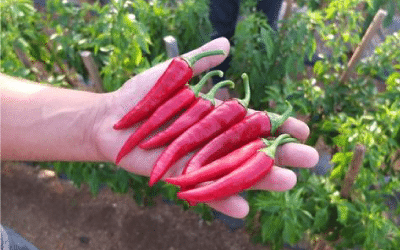 What Are The Benefits Of Cayenne Pepper On Your Health? This article is about the incredible therapeutic benefits the superfood...
read more